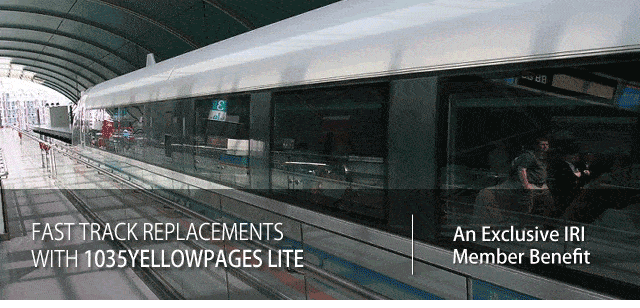 Fast track your replacements with reliable fax vs. hardcopy indicators, fax numbers, and all replacement requirements for the annuity processing locations of the largest IRI insurer carrier members.
Quick Access to Ceding Carrier
If your company would like access to 1035YellowPages Lite please click on the button below to submit a request.
Easily Locate the Correct Ceding Carrier and Processing Location
IRI 1035YellowPages Lite removes the guesswork from finding the correct ceding carrier. 
Company name changes, mergers and carriers with similar names, all make finding the correct ceding carrier frustrating and time consuming. IRI 1035YellowPages Lite's advanced search logic makes it easy to find the correct IRI carrier and annuity processing location.
Cut NIGO Replacement Request with Up-to-Date Ceding Carrier Replacement Form Requirements
Decrease replacement turnaround times
Financial Advisors can complete the sale, confident that their replacement is In-Good-Order by knowing the ceding carrier's MSG, Surrender Form and other replacement requirement details, while they are with the client. Learn more.
New business processors ensure that replacement requests are sent In-Good-Order by using reliable ceding carrier requirements.
Fax vs. Hardcopy Rules and Fax Numbers by Product
Save processing time and mailing costs!
Distributors and Financial Advisors will know when replacement requests can be electronically submitted to the IRI member insurer or if hard copy paperwork with original signatures should be sent.
Insurers' instantly identify which replacement requests are accepted via fax, and which fax number to use, or if hard copy paperwork with original signatures must be mailed.
Ensure that 1035 Exchange & Replacement requests are sent to the correct processing location as cost effectively as possible, In-Good-Order by using IRI 1035YellowPages Lite.
Find out more about the relevant ceding carrier information available on your IRI Member 1035YellowPages Lite website.
IRI 1035YellowPages Lite Site Registration
Member value added benefit includes unlimited users and site usage. 
Insurance Carrier and Distributor members can use the site by contacting
Bryan Harmelink, IRI's Manager of Operations & Technology
IRI Member Exclusive Benefit

Simplifying Replacements for Sales & New Business