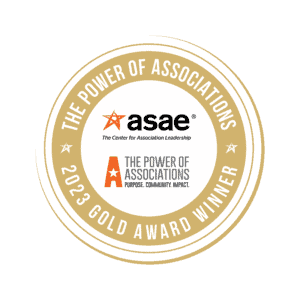 WASHINGTON, D.C. – The Insured Retirement Institute (IRI) won the American Society of Association Executives (ASAE) "Power of A" Gold award for advocacy for its successful efforts to enact the Secure 2.0 Act last year.
The new law contains 14 IRI-advocated provisions. These provisions will help retirement savers grow their savings, increase access to workplace retirement plans, provide paths to keep their tax-deferred savings longer, and produce sustainable retirement income using protected lifetime income solutions. The law is estimated to generate more than $70 billion in new retirement savings.
The association's advocacy efforts also included co-leadership of an industry coalition, the Secure 2.0 Coalition, comprised of IRI member companies and other retirement industry associations.
"IRI's advocacy team and its leadership within the insured retirement industry are world-class and have delivered amazing results for millions of America's workers and retirees," said Wayne Chopus, President and CEO. "This recognition from ASAE, the largest association executive organization, proves that IRI is a leading advocacy voice in Washington, D.C."
IRI's won its first ASAE Gold advocacy award in 2020 for its effort to enact the Setting Every Community Up for Retirement Enhancement (SECURE) Act. IRI won a Silver award in 2021 for its advocacy of an innovative five-point legislative plan to help retirement savers during the early days of the Covid pandemic.
The ASAE Power of A Award highlights the association community's valuable contributions to society locally, nationally, and globally. The Power of A Awards Judging Committee selected the winners.
"Our team is a dedicated, passionate group of professionals who work hard each day to deliver for our members and our industry," said Wayne Chopus, IRI President and CEO. "Achieving this recognition from the most prominent organization in the association community signifies IRI's commitment to excellence on behalf of our members."
ASAE is a membership organization of more than 47,000 association executives and industry partners. ASAE is the premier source of learning, knowledge, and future-oriented research for the association and nonprofit profession. It provides resources, education, ideas, and advocacy to enhance the power and performance of the association and nonprofit community. Visit ASAE at www.asaecenter.org.
For more information about the Power of A Award program, click here.
# # #
Contact: Dan Zielinski
Sen. Tina Smith and Sen. Thom Tillis Recognized for Efforts to Help America's Workers and Retirees WASHINGTON, D.C. – The Insured…
WASHINGTON, D.C. – A state securities regulator organization has proposed a revised model rule that could have significant consequences for…
WASHINGTON, D.C. – The Insured Retirement Institute (IRI) told the National Association of Insurance Commissioners (NAIC) Special Committee (EX) on…